St. John's-wort, Hypericum, Hypericum Perfoliatum, Hypericum perforatum, millepertuis, Hyper.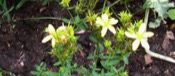 Below are the main rubriks (i.e strongest indications or symptoms) of Hypericum Perforatum in traditional homeopathic usage, not approved by the FDA.


Have you ever used Hypericum Perforatum? Yes No


< < Hypericum Perforatum- main page
GENITALS ETC
Urine
Profuse clear yellow urine, at night, with burning,
Urine clear, wine-yellow,
Urine very highly colored, frothy, of a peculiar sweetish odor, in the morning (fifth day),
Strong-smelling urine (first night),
Burning in the urethra,
Micturition.
Urging to urinate, in the afternoon (fifth day),
Urging to urinate, with vertigo, almost a faintness, at two o'clock at night, when in and when out of bed (eleventh day),
Frequent emission of very yellow urine, without burning,
Womb
Tension in the uterine region, as from a short band (seventh night),
Genitals
Lascivious thoughts, soon (in a man),
Violent tearing in the genitals, with a desire to urinate, and micturition twice at midnight (seventh night),
Leucorrhoea for several days after the proving,
Menses
Menstruation more profuse and with less difficulty than usual; the second menstruation was three days earlier and more profuse, with cold feet and acute sensibilities,
Menstruation fourteen days too late,
≡ more ...