St. John's-wort, Hypericum, Hypericum Perfoliatum, Hypericum perforatum, millepertuis, Hyper.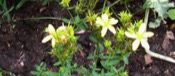 Below are the main rubriks (i.e strongest indications or symptoms) of Hypericum Perforatum in traditional homeopathic usage, not approved by the FDA.


Have you ever used Hypericum Perforatum? Yes No


< < Hypericum Perforatum- main page
GENERALITIES
Sleep and dreams
Sleepiness.
Yawning,
Frequent yawning,
Sleepiness, the eyelids keep closed, at 6 P.M. (first day),
(Sleepy, in the afternoon, after eating), (second day),
Very sleepy, at 5 P.M. (second day),
Constantly inclined to sleep (second day),
Sleep heavy, exhausting every night, with sweat in the morning,
Wakes late (second morning),
Sleeplessness.
Falls asleep late, sleep restless, wakes early (first night),
Sleep uneasy (first and third nights),
Sleep restless; it seems as though she were lying very heavy in the bed (first day),
Sleep restless, disturbed by various pains, and with confused, anxious, voluptuous dreams, or dreams of business,
Sleep extremely restless, with frightful dreams, starting up and apprehensiveness (first night),
Waking early in the morning with hot perspiration and uneasiness (sixth day),
Sleeps usually lying on the back and boring the head into the pillow,
Lies on the back, with emissions (second night),
Dreams.
Dreamy sleep, with sweat in the morning,
Many dreams (second night),
She dreamed very much and awoke after every dream (first night),
Vivid dreams at night, not remembered in the morning (fourth day),
Busy dreams very indistinctly remembered (fifth day),
Many dreams at night of journeyings, etc., indistinctly remembered in the morning (first night),
Constant dreams at night; after waking several times he always fell asleep and continued to dream, dreamed of journeying, hunting, etc.; very indistinctly remembered (first night),
Exhausting dreams of climbing mountains, great pressure of business, etc., without sweat at night,
Perspiration
Gets into a perspiration easily on slight exertion,
≡ more ...