St. John's-wort, Hypericum, Hypericum Perfoliatum, Hypericum perforatum, millepertuis, Hyper.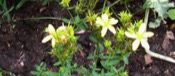 Have you ever used Hypericum Perforatum? Yes No


< < Hypericum Perforatum- main page

Below are the main rubriks (i.e strongest indications or symptoms) of Hypericum Perforatum in traditional homeopathic usage, not approved by the FDA.
EYES
Eyes
Weariness in the eye,
Feeling as though the eyes were difficult to move, as after weeping,
Burning in the canthi,
Tension in both eyes (fifth day),
Tension in both eyes (third day),
Aching sensation in the eyes (second day),
Stitches through the right eye (tenth day),
Tearing in the right eye, in the evening (seventh day),
Brow.
Drawing stitches above the eyes, especially in the soft parts of the head,
Lids.
Eyelids covered with mucus tense,
The right eye is spasmodically closed for about a quarter of an hour, in the evening (fourth day),
Smarting of the eyelids,
Pupil.
Pupils dilated (fifth day), ; at 6 P.M., (first day),
Vision
Slight longer than usual, in a myope,
Sight weaker than usual,
≡ more ...