St. John's-wort, Hypericum, Hypericum Perfoliatum, Hypericum perforatum, millepertuis, Hyper.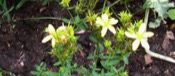 Below are the main rubriks (i.e strongest indications or symptoms) of Hypericum Perforatum in traditional homeopathic usage, not approved by the FDA.


Have you ever used Hypericum Perforatum? Yes No


< < Hypericum Perforatum- main page
APPENDIX
Authorities
1, Dr. George F. Mueller, Hygea, 5, 484, "Caroline," aged 23, unmarried, took 4 drops of tincture, one dose; 2, "Catharine," aged 31, took same; 3, "Madeline," aged 21, took same; 4, Thorer, Beiträge, 4, 1839, p. 118, effects of 30th dilution, taken in the evening; 5, Dr. Stokes's provings on self and wife, with 10 to 30 drops of tincture three times a day, also doses of 1/2 to 1 drachm of tincture and of infusion, Hom. Times, 1853 (from German translation, original not accessible); 6, Dr. Bruckner, A. H. Z., 68, 132, took 6th dilution (first, second, fourth, fifth, sixth days), 30th dilution (seventh day), 6th dilution (eighth, ninth, fourteenth days); 6a, same prover took (the subsequent year), 1st dilution for a headache; 7, Schelling, A. H. Z., 79, 22, took 1st dilution (first day), afterwards 6 drops of tincture, and after four days, 1 drop daily for eight days; 7a, same prover the next year took 1st dilution, three doses in one forenoon.
5, August 18th, 1852, smelled and tasted tincture just set to macerate, in the evening (first day); took 1/2 ounce tincture and walked out, 11 A.M. (second day); 1/2 drachm tincture at 10.30 A.M. (third day); 1 drachm tincture (fourth day); 1/2 ounce (fifth day); 1 ounce infusion at 11 A.M., 2 ounces more in afternoon (seventh day); 1 ounce infusion at 4.30 P.M. (eighth day); 5a, second proving, September 6th, took of infusion half a pint with 2 drachms of tincture for a mixture; infusion, 10 drachms between dinner and tea (first day); 3 drachms of infusion (second day); 1 1/2 ounce infusion (fifth day); 5b, third proving, September 17th, 10 drops in water of a dilution made with 20 drops tincture to 2 drachms of spirit, at 10.40 A.M. (first day); same at 8 P.M. (second day); 10 drops three times (third day); 10 drops at noon (fourth day); 20 drops on tongue twice, and took the whole lot prepared (fifth day); 5c, fourth proving, September 26th, took 3d cent. dil., 10 drops in water, 8 A.M. (first day); 10 drops at 11 A.M. (third day); 10 drops in the morning (fifth day); 5d, female prover, S. E. S., took 10 drops strong tincture three times a day, beginning October 11th, 1852; 5e, October 19th, second proving with 30 drops, three times a day, on the fourth day stopped the medicine, got an olfaction of Staphysagria Staph., and then one of Chamomilla Chamom.; 5f, November 3d, 3 globules 3d dec. dynamization.
Preparation
Hypericum perforatum, Linn.
Natural order, Hypericaceae. Common names, St. John's Wort; (G.), Johannis-kraut, Hartheu; (F.), Millefolium Mille-pertuis.
Preparation, Tincture of the whole plant.
Supplement
HYPERICUM PERFORATUM.
The following symptoms are taken from Stokes's original report, and are to be accepted in place of those in Vol. V.
≡ more ...