Black Lead, Graphite, Graph.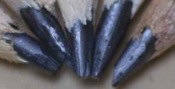 Below are the main rubriks (i.e strongest indications or symptoms) of Graphites in traditional homeopathic usage, not approved by the FDA.


Have you ever used Graphites? Yes No

THROAT
Throat
Palate feels sore; and fauces somewhat reddened.
Violent catarrh of the fauces, with sensation as if tough food had to pass over a lump in the throat.
Constant cramp in the throat causing him to retch, as if the food would not go down.
Nightly pains in the throat, like a plug.
Ulcerative pain in the throat.
Roughness and rawness in the throat.
Hawking of phlegm.
Throat seems full of gurgling mucus.
Larynx
Voice not clear, in singing; hoarseness in the evening; chronic hoarseness.
Laryngeal region sensitive to touch.
Soreness and roughness of larynx and tickling cough.
≡ more ...