Black Lead, Graphite, Graph.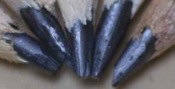 Below are the main rubriks (i.e strongest indications or symptoms) of Graphites in traditional homeopathic usage, not approved by the FDA.


Have you ever used Graphites? Yes No

RECTUM, ANUS, STOOL
Stool
Excessive discharge of flatus.
Stools rarely diarrhoeic and then usually painless; purging and vomiting, with icy-cold sweat; knotty, the lumps being united by mucous threads; sour-smelling; thin, scalding, light brown; brown fluid, mixed with undigested substances, and very fetid; hard, lumpy, with blood and slime.
Constipation large, knotty feces; chronic, with hardness in region of liver; with dryness of mucous membrane of rectum and fissure of the anus.
After stool there is some mucus remaining about the anus.
Tapeworm.
Fissura ani; severe, sharp, cutting pain during stool, followed by constriction and aching for several hours, worse at night.
Protrusion of rectum, without urging to stool, as if the anus were lame.
Large hemorrhoidal tumors.
Hemorrhoids, with pain on sitting down, or on taking a wide step, as if split with a knife, also violent itching, and very sore to touch.
Hemorrhoids of the rectum, with burning rhagades at the anus.
≡ more ...