Black Lead, Graphite, Graph.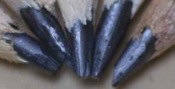 Have you ever used Graphites? Yes No


Below are the main rubriks (i.e strongest indications or symptoms) of Graphites in traditional homeopathic usage, not approved by the FDA.
RECTUM, ANUS, STOOL
Stool
Constipation; large, difficult, knotty stools united by mucus threads
Burning hemorrhoids
Prolapse, diarrhoea; stools of brown fluid, mixed with undigested substance, Very fetid, sour odor
Smarting, sore anus, itching
Lump stool, conjoined with threads of mucus
Varices of the rectum
Fissure of anus ( Ratanhia Ratanhia; Paeonia.)
≡ more ...