Black Lead, Graphite, Graph.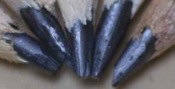 Have you ever used Graphites? Yes No


Below are the main rubriks (i.e strongest indications or symptoms) of Graphites in traditional homeopathic usage, not approved by the FDA.
MOUTH
Mouth
Acid, foul odor.
Teeth
Tearing pain, worse by warmth; renewed by going to bed.
Gums and teeth
Rotten odor from the mouth and gums.
Pressing pain in the teeth, worse from touch or biting.
Drawing pain in the molars while walking in the wind.
Stinging toothache after cold drink.
Toothache, worse at night.
Painful soreness on the inner side of the gums.
Swelling of the gums and dryness of the mouth.
Saliva
Saliva increased, much spitting.
Tongue
Tongue sensitive.
Tongue coated white.
Whitish, painful ulcer on lower surface of the tongue.
Taste
Breath smells like urine.
Taste sour; salty; bitter; like rotten eggs.
≡ more ...