Black Lead, Graphite, Graph.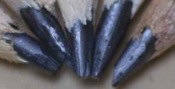 Have you ever used Graphites? Yes No


Below are the main rubriks (i.e strongest indications or symptoms) of Graphites in traditional homeopathic usage, not approved by the FDA.
MIND
Mind
Forgetfulness; dim recollection of recent events.
Weakness in the head, can scarcely think.
Slow in thought.
Dread of work.
Hates work.
Mood changeable; sad, with thoughts of death; sad and weeping; forlorn; depressed; dejected.
Full of fear in the morning.
Solicitude concerning spiritual welfare.
Great anxiety.
Much inclined to grief.
Hesitates at trifles.
Timidity.
Fretful.
Ill humored.
Easily vexed.
Irritable.
Child impudent, teasing, laughs at reprimands.
Fidgety while sitting at work.
Scientific labor fatigues him.
Thoughts of many things at night prevent sleep.
Ailments from grief.
≡ more ...