Black Lead, Graphite, Graph.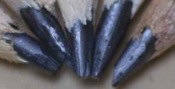 Below are the main rubriks (i.e strongest indications or symptoms) of Graphites in traditional homeopathic usage, not approved by the FDA.


Have you ever used Graphites? Yes No

HEAD
Headache
Stinging or stitching pains in the temples.
Pressive pain in the vertex; in the occiput.
Tearing pain in one side of head, in teeth and glands of throat.
Pain as if constricted with a cord, particularly in occiput.
Pain from left temple down the side of the face to the shoulder; face distorted; left corner of mouth drawn inward and downward.
Lancinating pain in right temple.
Violent headache, with nausea, during the menses.
Scalp
Scalp feels bruised.
Coldness of the scalp.
Itching on the scalp.
Eczema capitis, of entire scalp, forming massive, dirty crusts, which mat the hair together; scabs sore to touch.
Hair falls out, even on the sides of the head.
Outer head
Sensation as if the skin of forehead were drawn into folds.
Burning on the vertex in a small spot.
Sweat on the head when walking in the open air.
Bald places on the head perfectly smooth and shining.
Circumscribed bald spot on front of head covered with herpes.
Porrigo decalvans.
Inner head
Forehead pressure deep in; drawing; tearing; bursting.
Throbbing in the sides of the head.
≡ more ...