Black Lead, Graphite, Graph.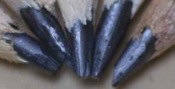 Have you ever used Graphites? Yes No


Below are the main rubriks (i.e strongest indications or symptoms) of Graphites in traditional homeopathic usage, not approved by the FDA.
GENERALITIES
Fatigue
Tired feeling.
Lassitude.
Sleep
Constant yawning.
Excessively tired and sleepy.
Sleepiness during the day, must lie down; after dinner.
Light slumber at night.
Wandering fancies at night.
Nightly pains felt in sleep.
Cannot go to sleep till late.
Sleeplessness.
Starting in sleep.
Dreams vivid; anxious; frightening; horrible; vexatious.
Nausea and vomiting
Hiccough after either one or all meals.
Eructations sour; tasting of the food eaten; relieve the pressure in the stomach.
Rancid heart-burn after dinner.
Qualmishness mornings and several hours after dinner.
Nausea and vertigo; and sweat, with anxiety; like faintness, prevents sleep; with spasm in the throat; with eructation; with headache; with inclination to vomit; and sour vomiting; in the morning; after eating.
Vomiting sour; of food.
Vomiting, purging, and icy-cold sweat, with headache.
Eating and drinking
Worse when hungry.
Must eat 17, 26. After eating 17, 19, 40; dinner 37; boiled meat 17. After drinking 40. Drinking warm milk 17. Cold drink 10, 17.
Tissues
Burning pain in an old cicatrix.
Emaciation of suffering parts.
Swelling and induration of the glands.
OEdematous complaints.
Contact, Injuries, etc.
Touch 9, 10, 20, 25, 32. Pressure 18, 23.
Sensations
Great sensitiveness of internal parts.
Cramp-like sensations of various parts.
Numbness of various parts.
Nerves
Cataleptic condition, conscious, but without power to move or speak.
Tremulous sensation through the whole body.
Weakness.
Exhaustion.
Prostration.
Temperature and weather
Takes cold easily.
Warmth 10. In bed 33. Open air 4, 5, 40.
Chill, Fever and Sweat.
Chilliness in the morning, in bed.
Chill and chilliness, most in the evening.
Chill worse after meals, better after drinking, better in open air.
Heat evening and night; also, with restlessness.
Sweats from the slightest motion.
Profuse night-sweat.
Sweat, often on front of body only.
Sweat stains yellow, is sour and offensive smelling, and frequently cold.
Entire inability to sweat.
Attacks
Full moon 6.
Sides.
Right 3, 6, 18, 19, 32. Left 3, 5, 6, 8, 18, 19, 22, 32, 33. Right to left 8, 23.
≡ more ...