Black Lead, Graphite, Graph.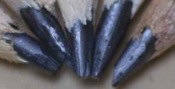 Below are the main rubriks (i.e strongest indications or symptoms) of Graphites in traditional homeopathic usage, not approved by the FDA.


Have you ever used Graphites? Yes No

FACE
Face
Face pale and haggard; pale and bloated; chlorotic; flushed.
Erysipelas of both sides of the face, with burning-stinging pain; of the cheeks, preceded by alternating chills and heat; of left cheek, after mal-application of Iodium Iodum for sore of inner nose; of face, from the smell of wood; commencing on right side and going to left.
Hemiplegia facialis (several cases).
Humid pimples on the face.
Moist eczema on the face.
Rhagades on the cheek, running like radii toward the corners of the mouth; an infiltrated spot on the cheek, is covered with dry scales.
Scabs on the face, skin dry, constipated large stools.
Freckles.
Hair of the whiskers or beard falls out.
Lower face
Painful nodules on the lower jaw.
Upper lip twitching; stinging; swollen; painful pimples.
Corners of mouth ulcerated.
Heaviness in the lower lip.
Formication in the lips during the menses.
Lips chapped.
Swelling of the submaxillary glands painful to touch.
≡ more ...