Black Lead, Graphite, Graph.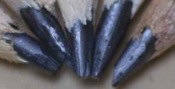 Have you ever used Graphites? Yes No


Below are the main rubriks (i.e strongest indications or symptoms) of Graphites in traditional homeopathic usage, not approved by the FDA.
EYES
Eyes
Intolerance of light; with redness of the white of the eye; hyperaesthesia of eyes, with the vertigo.
Shunning daylight usually more than gaslight; photophobia.
Light dazzles the eyes; sunlight causing lancinating pains in the eyes.
Shortsightedness.
Letters appear double when writing; run together when reading; sees fiery zigzags around the outside of the field of vision, in the evening, with the eye open.
Flickering before the eyes.
Sees as through a mist; everything turns black before the eyes when stooping.
Tiredness of the eyes.
Pressing pain in the eyes, morning and evening.
Drawing, extending from the eye up into the head.
Stitches from the temple through the eye to inner canthus, on looking at anything white or red, or at the sun.
Smarting in the eyes, with heat in them.
Burning and aching in eyes; burning pain around the eyes.
Ulcer on the cornea, with a few small vessels running into it; with moist fissured eczematous eruptions.
Pustules on the cornea and conjunctiva, with much lachrymation.
Pustule on the cornea, or reddish appearance, with white halo around it; the corners of lids raw and bleed easily.
Arthritic ophthalmia, with contraction and irregularity of the pupils.
Lachrymation in the open air; also chronic.
Thin, acrid discharge from the eyes; pus-like discharge from the eyes.
Internal canthus itching; burning; stitches; sore.
External canthus; sore and fissured; fissured and bleed easily.
Heat in the eyes and some pus in the canthi.
Swelling of the eyelids and lachrymal gland.
Heaviness of the eyelids; cannot open his eyes.
Lids feel dry, rough with itching; edges inflamed or covered with scurf; agglutinated night and morning; oedematous.
Left lower lid hangs down.
Inverted lids (margins); wild hairs.
Styes on lower lid, with drawing pain -may prevent return.
On both eyes hordeola and chalazion in all stages, also wens.
Coldness over the eyes.
Twitchings beneath the eyes.
≡ more ...