Graphites - Extremities, Limbs symptoms
Black Lead, Graphite



Available
in 3C-30C, 200C, 6X-30X, 200X, 1M-50M, CM from $6.50
Purchase options
HPUS indication of Graphites: Cracks in skin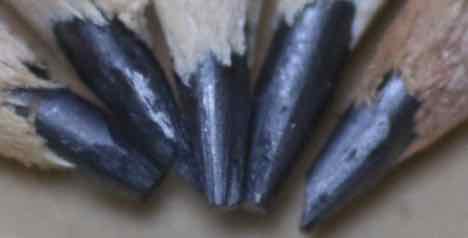 Homeopathic remedies are prescribed on the basis that in a tiny dilution like cures like, so while very dilute Graphites may help, unprocessed Graphites may be best avoided.
Below are the main rubriks (i.e strongest indications or symptoms) of Graphites in traditional homeopathic usage, not reviewed by the FDA.
< < Graphites - main page
EXTREMITIES, LIMBS
Extremities, limbs
Pain in nape of neck, shoulders and back and limbs
Spinal pains
Pain in small of back with great weakness
Excoriation between thighs
Left hand numbs; arms feel asleep; finger-nails THICK, black, and rough
Matrix inflamed ( Psorinum Psor.; Hydrofluoricum Acidum Fluor-ac.) Oedema of lower limbs
Toe-nails crippled
Stiffness and contraction of toes
Nails brittle and crumbling
Nails deformed, painful, sore, thick, and crippled
Cracks or fissure in ends of fingers
Offensive perspiration of feet.
Arthritic nodules
finger joints
with stiffness
toes
Awkwardness; hands
fingers
Bones; decay of bone
Coldness; in paralysed limb
upper limbs
upper arm
upper arm; with burning
elbow
forearm
hands
hands; evening
hands; during period
hands; during period; with pain
fingers
fingers; extending to middle of upper arms
lower limbs; paralysed limb
lower limbs; knee
lower limbs; leg
after sexual intercourse
lower limbs; foot
morning
evening
evening; in bed
evening; 5 p.m.
during anxiety
icy cold
during period
back of foot
back of foot; while walking
soles; during period
Constriction; sensation as if bandaged; knee
sensation as if bandaged; knee; right
sensation as if bandaged; knee; while sitting
sensation as if bandaged; knee; while walking
joints
lower limbs
ankles
foot
Contraction of muscles and tendons
joints
fingers
first
thigh; hamstrings
hollow of knee
leg; Achilles tendon
Cramps
upper limbs
hand
grasping
fingers
lower limbs
buttocks
leg
during period
calf
daytime
morning; in bed
night
in bed
from sexual intercourse; during
during sleep
on waking
foot
in bed
Pulling up limbs
Emaciated, extremely thin; diseased limb
upper limbs
hand
Hands and feet; horny callous; on hands
horny callous; on hands; with deep cracks
horny callous; on toes
chapped hand (see roughness)
corns
burning
horny
pressing
sore
horny growth under nails
hardness; skin of hands (see callus)
nails; brittle; finger nails
nails; crippled; finger nails
nails; crippled; toe nails
nails; distorted nails
toe nails
nails; flaking off
nails; ingrown toe nails
nails; thick nails
finger nails
toe nails
odour of feet, offensive, without perspiration
Letting limbs hang down
arms
Heat; upper limbs
hand
from excitement
from talking
thigh; after sitting
leg
foot; alternately hot and cold
foot; burning
foot; sole
during fever
Heaviness; tired limbs
upper limbs; when period is suppressed
upper limbs; with numbness
lower limbs
open air
before period
during period
with suppressed symptoms
thigh; during period
leg
foot
Diseased hip-joint (see pain in hip)
Inflammation; indurated (hard from inflammation); fingers
indurated (hard from inflammation); leg
hand; skin erysipelas (inflamed from infection, deep red colour)
Movements and positions; convulsion; hand
incoordination; ataxia
jerking
evening
upper limbs
upper limbs; evening
upper limbs; night
upper limbs; on falling asleep
hand
hip
calf
foot
lameness; upper limbs
shaking; noon, after eating
shuddering; shivering, legs (see shuddering)
shuddering; leg, shivering
trembling
when sexually excited
upper limbs
lower limbs; during period
twitching
evening
wandering
joints
upper limbs
upper limbs; evening; in bed
upper limbs; during sleep
shoulder
elbow
forearm
hand
lower limbs
thigh
knee
leg
leg; calf
foot
foot; sole of foot
Inflammed veins in legs of breast feeding women
Numbness (see tingling)
night
while lying down; still
during period
while sitting
when walking in the open air
upper limbs
left
while lying on it
during period
during siesta
while sitting
forearm
hand
right
left
left; during period
when lain on
during period
sitting
on using hand
fingers
tips of fingers
first finger; tip of
lower limbs
while sitting
thigh
while sitting
knee
night
during sleep
leg
evening; while sitting
after sitting
calf
foot
sitting
while walking
back of foot
back of foot; while walking in open air
heel
toes
Pain
night
during chill
on becoming cold
in parts lain on
during period
on beginning to move
warmth
in bones
joints; gouty
nails
upper limbs
lying on it
neuralgic (pain along nerve)
warmth
shoulder
rheumatic
elbow; paralytic
elbow; at bend of elbow
on stretching arm
forearm; paralytic
fingers; nails
under the nails; from horny growths
thumb; joints; rheumatic
lower limbs
night
open air
becoming cold
during period
rheumatic
while standing; standing upright
warmth
hip; during period
knee; after exertion
knee; rheumatic
knee; while sitting
knee; after stooping
knee; hollow of
while standing
while standing; as if tendons were too short
ankle
foot; joints in foot
foot; sole
on rising; from a seat
ulcerative
foot; heel
rising from a seat
ulcerative
toes; joints of
gouty
toes; nails
toes; first toe (large toe)
nail; as if nail would enter flesh
aching; leg; ankle bone
aching; toes; first toe (large toe)
boring; ankle
sensation as if broken; leg
burning; nails
burning; upper limbs
joints
burning; shoulder
burning; upper arm
in spots
burning; forearm
night
night; lying on it
spots
burning; hand
palm
burning; fingers
burning; thumb
burning; foot
sole
sole; while walking
heel
heel; morning; in bed
cutting; lower limbs
cutting; hip
cutting; knee
pulling
during coldness
cramp-like
upper limbs
upper arm
elbow
elbow; movement
elbow; paralysing
forearm
lower limbs
lower limbs; cramp-like
lower limbs; bone
thigh; bend of
thigh; thigh bone
knee
knee; hollow of knee
knee; hollow of knee; while standing
knee; hollow of knee; walking
leg
leg; open air
leg; cramp-like
leg; Achilles tendon
leg; shin
leg; calf
leg; calf; comes on suddenly
leg; calf; on rising
gnawing, biting; upper limbs
gnawing, biting; forearm
bones of
gnawing, biting; wrist
gnawing, biting; ankle
bones
pinching; lower limbs
pressing; elbow
after siesta
pressing; forearm
paralytic
pressing; foot
after eating
joints of
pressing; toes
shooting (see stitching, sudden, sharp); leg; calf; when pulling on boot
sore, bruised
while lying down; in the limb lain on
upper limbs
upper arm
upper arm; in bone; ends of bones
hand; back of hand
hand; between fingers
lower limbs
thigh
thigh; between thighs
thigh; middle of thigh
thigh; near genitals
thigh; bone
knee
knee; morning
knee; morning; in bed
knee; night
knee; rising from seat; after rising from seat
leg
leg; while walking
leg; shin
foot
foot; after eating
foot; from perspiration
foot; sole
foot; sole; while walking
toes
toes; from perspiration
toes; between toes
as if sprained; joint
as if sprained; wrist
as if sprained; fingers
as if sprained; knee
while walking
as if sprained; ankle
being indoors
while walking; in open air
stitching, sudden, sharp; during period
stitching, sudden, sharp; joints
stitching, sudden, sharp; nails
stitching, sudden, sharp; upper limbs
joints
stitching, sudden, sharp; shoulder
left
night
burning
stitching, sudden, sharp; upper arm
stitching, sudden, sharp; elbow
stitching, sudden, sharp; forearm
stitching, sudden, sharp; wrist
stitching, sudden, sharp; hand
stitching, sudden, sharp; fingers
under nails
tips of fingers
stitching, sudden, sharp; thumb; ball of
stitching, sudden, sharp; thumb; under nail
stitching, sudden, sharp; thumb; tip
stitching, sudden, sharp; lower limbs; bones
stitching, sudden, sharp; hip
stitching, sudden, sharp; thigh
night; in bed
burning
wandering
stitching, sudden, sharp; knee
knee cap
stitching, sudden, sharp; leg
when blowing nose
calf
calf; when pulling on boots
stitching, sudden, sharp; ankle
morning, on every step
on stepping
stitching, sudden, sharp; foot
after eating
sole
heel
heel; when putting it down
stitching, sudden, sharp; toes
first toe (large toe)
first toe (large toe); while sitting
tearing
during chill
joints
upper limbs; joints
shoulder
shoulder; left
shoulder; night
shoulder; on movement
elbow
elbow; during movement
elbow; raising arm
forearm
hand
hand; evening
hand; rheumatic
fingers
lower limbs
hip
hip; rheumatic
thigh
thigh; morning
thigh; afternoon
thigh; evening
thigh; smarting
thigh; back of thigh
leg
leg; rheumatic
leg; shin bone
foot
foot; evening
foot; rheumatic
foot; back of foot
foot; outer side
foot; sole
foot; sole; while walking
foot; heel
toes
toes; gouty
toes; rheumatic
toes; nails
toes; first toe (large toe)
toes; fifth toe
Paralysis; with coldness of parts
on one side of body (hemiplegia)
right
painless
sensation of paralysis
upper limbs; sensation of paralysis
foot; heel
Perspiration; hand
foot
afternoon
evening
cold
wearing away skin
offensive smelling
profuse
suppressed
with swelling of feet
while walking
toes; while walking
toes; between toes; causing rawness
Pulsation, throbbing; fingers; under nails
Restlessness
lower limbs
evening
leg
Rush of blood to.; feet, while standing
Sensitive; ankle
Shocks; thigh; extending downward
Skin; bursae (like bags on skin bursae); cysts
chicken pox (see swelling); lower limbs
during pregnancy
chicken pox (see swelling); leg
itching
painful; during period
sensitive
stinging
skin cracks at bends of joints
hands (see chapping)
fingers; between fingers
fingers; joints of fingers
fingers; tips of
between toes (see excoriated)
discoloration; upper limbs; red; spots
discoloration; fingers; red
discoloration; fingers; nails
black
blueness
discoloration; lower limbs; red; in spots
discoloration; thigh; red; spots
discoloration; thigh; spots
discoloration; knee; reddish; spots
discoloration; calf; red in spots
discoloration; calf; spots
discoloration; foot; red
discoloration; toes; nails
excoriated (as if grazed, chaffed); bends of, joints
excoriated (as if grazed, chaffed); between buttocks
excoriated (as if grazed, chaffed); between thighs
from walking
excoriated (as if grazed, chaffed); between toes (see perspiration, wearing away skin)
abnormal growths; on soles of feet
felon (whitlow, onychia, paronychia, foot rot, etc.); beginning in nail; at root of nail
felon (whitlow, onychia, paronychia, foot rot, etc.); run-around
felon (whitlow, onychia, paronychia, foot rot, etc.); tendons affected
itching
like insects crawling on skin; during period
like insects crawling on skin; walking
like insects crawling on skin; upper limbs
like insects crawling on skin; upper limbs; evening; while walking
like insects crawling on skin; hand
like insects crawling on skin; hand; during period
like insects crawling on skin; fingers
like insects crawling on skin; fingers; tips
like insects crawling on skin; fingers; first; tip of
like insects crawling on skin; lower limbs
like insects crawling on skin; lower limbs; during period
like insects crawling on skin; leg
like insects crawling on skin; leg; evening; walking
like insects crawling on skin; foot
like insects crawling on skin; foot; heel
like insects crawling on skin; foot; heel; morning, in bed
scratching
upper limbs
upper limbs; scratching
hand
hand; ball of hand
hand; palm
hand; palm; scratching
lower limbs
lower limbs; at the side of a previous boil
lower limbs; in spots
lower limbs; sticking
lower limbs; chicken pox
thigh; at site of a previous boil
thigh; near genitals
leg; calf
leg; calf; in spots
foot; sole of foot
toes
toes; sticking
toes; between
toes; first toe (large toe)
toes; first toe (large toe); sticking
oozing, from fluid accumulation in legs
out-break on skin
blisters; containing fluid
boils
herpes
pimples
joints; bends of
joints; bends of; eczema
upper limbs
upper limbs; boils
upper limbs; eczema
upper limbs; elevations
upper limbs; herpes
upper limbs; itch-like
elbow; bend of elbow
elbow; bend of elbow; eczema
elbow; bend of elbow; herpes
forearm
forearm; on eczema
hand
hand; crusty and full of cracks
hand; desquamating (peeling in scales)
hand; eczema
hand; herpes
hand; itching
hand; psoriasis (red patches with silvery scales)
hand; scales
hand; scales; white
hand; blisters; corroding
hand; blisters; phagedenic (spreading, obstinate ulceration)
hand; back of hand; desquamating (peeling in scales)
hand; back of hand; eczema
hand; back of hand; herpes
hand; back of hand; scaly, itching skin disease (eczema, psoriasis, herpes, etc.); psoriasis (red patches with silvery scales), chronic
hand; back of hand; blisters
hand; palm
hand; palm; psoriasis (red patches with silvery scales)
hand; between the fingers
hand; between the fingers; herpes
hand; between the fingers; moist
hand; between index finger and thumb; blisters
fingers
fingers; desquamating (peeling in scales)
fingers; herpes
fingers; phagedenic blisters (spreading, obstinate ulceration)
fingers; pimples
fingers; blisters
fingers; blisters; becoming ulcers
fingers; fourth finger; blisters
lower limbs
lower limbs; herpes
lower limbs; pimples
lower limbs; pimples; red
lower limbs; blisters
lower limbs; blisters; corroding
buttocks
buttocks; boils
buttocks; itching
buttocks; leprous spots, annular
buttocks; painful
buttocks; pimples
buttocks; scabs
hip; boils
thigh
thigh; crusts
thigh; herpes
thigh; pimples
thigh; pimples; red
knee; herpes
knee; hollow of knee
knee; hollow of knee; eczema
knee; hollow of knee; herpes
knee; hollow of knee; moist
leg; copper coloured spots
leg; eczema
leg; excoriated (as if grazed, chaffed)
leg; herpes
leg; leprous spots
leg; moist
calf; eczema
foot; coppery spots
foot; blisters
foot; blisters; generating pus
foot; blisters; white
foot; heel; blisters
toes
toes; pus-filled pimples
toes; blisters
toes; blisters; spreading
toes; blisters; white
between toes; herpes
between toes; soreness
suppurating (producing pus); hip (see hip joint disease)
roughness; hand (see chapped)
roughness; fingers; nails
ulcers; nails
ulcers; lower limbs
painless
varicose
ulcers; leg
on shin
ulcers; foot
ulcers; toes
originating in blisters
leprous
nail
border of first toe
Stiffness
joints
shoulder
fingers
after when grasping anything
thigh
while walking
knee
preventing squatting
ankle
foot
after eating
toes
Swollen; upper limbs
upper arm
forearm
hand; during period
fingers
lower limbs
fluid in tissues
hard
hot
during period
painful; stitching, sudden, sharp
stinging
white
leg
shin
calf
ankle
foot
during period
fluid accumulation
toes
Tension, tightness; thigh; hamstrings
knee; hollow of knee
while standing
while walking
leg
while walking
calf; Achilles tendon
Tingling, prickling, asleep (see numbness)
upper limbs
side lain on
while sitting
hand
while sitting
lower limbs
during period
while sitting
Water sensation; as if water running through elbow
as if water were oozing from the legs
Weakness
joints
while sitting
when stooping
upper limbs
lower limbs
thigh
knee
foot
during period
while walking