Black Lead, Graphite, Graph.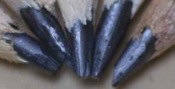 Have you ever used Graphites? Yes No


Below are the main rubriks (i.e strongest indications or symptoms) of Graphites in traditional homeopathic usage, not approved by the FDA.
EXTREMITIES, LIMBS
Extremities, limbs
Drawing pains in the limbs.
Tearing in the feet and hands; in all the limbs.
Startings of the hands and feet.
Heaviness in limbs.
Limbs go "to sleep".
Hands and feet either hot or cold.
Upper extremities
Shoulder and neck painful.
Rheumatic or burning pains especially in left shoulder.
Burning pressure beneath the armpit.
Jerking in the arms.
Arms feel "asleep".
Right upper arm sore, tender and swollen.
Herpes circinatus hard to the touch and wrinkled looking, itching terribly, in bend of the elbow.
Left hand becomes numb and like dead, with formication extending up the arm.
Cramp in the hand.
Horny callosities in the hands.
Pain in the thumb-joint, as if sprained.
Gouty swelling of the fingers.
Raw, moist places between the fingers.
Finger-nails thick, exfoliate, or black and rough, matrix inflamed, with soreness, throbbing and numbness; no suppuration.
Lower extremities
Tearing, or bruised pains in the thighs.
Numbness of the thighs.
Stiff feeling in hollow of knee, as if tendons were too short.
Bruised pain in the knees.
Tetters in the hollow of the knees.
Cramp in the calves.
Heaviness of the legs.
Great oedema of the limbs, chiefly the lower, which are very large, with profuse, constant watery exudation from the skin below the knees, epidermis exfoliated.
Ulcers on lower limbs, with acrid pus, dryness of skin and constipation.
Stitches in the heel, when putting it down.
Weakness of feet, cannot walk.
Callous ulcers of the feet.
Stiffness and contraction of the toes.
Gouty tearing in the toes.
Ulcers; or spreading blisters on the toes.
Thick and crippled toe-nails.
≡ more ...