Black Lead, Graphite, Graph.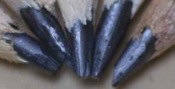 Have you ever used Graphites? Yes No


Below are the main rubriks (i.e strongest indications or symptoms) of Graphites in traditional homeopathic usage, not approved by the FDA.
CHEST
Lungs
Cramps of the chest.
Pains in the chest.
Pain in the middle of the chest, with cough, scraping, rawness and soreness.
Stitching pains in the chest.
Respiration
Respiration has dry sound.
Constriction of chest, as if about to suffocate, when falling asleep.
Suffocative attacks waken from sleep, generally after midnight, has to jump out of bed, take hold of something, and must eat something.
Heart and pulse
Region of heart constriction; pressure; stitches.
Sensation like an electric shock, from heart toward front of neck.
Strong pulsation of the blood in the whole body, but especially about the heart, increased by every motion.
Palpitation of the heart with anxiety; with nosebleed.
Pulse full and hard, somewhat accelerated in the morning slow during day and evening.
Outer chest
Stinging in fleshy part of chest.
Pimples on the chest.
≡ more ...