Male Fern, Felix-mas, Filix, Fil.
Not available to buy through our store.
HPUS
indication of Filix Mas:
Worms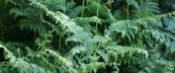 Please see our remedy relationship tool to view relationships across more than two remedies

Below are the main rubriks (i.e strongest indications or symptoms) of Filix Mas in traditional homeopathic usage, not approved by the FDA.

Filix Mas is not available to buy over the counter.



REVERSE RELATIONSHIPS
These are relationship sections of other remedies that refer to Filix Mas. Where the text is greyed out, a relationship with that remedy is already described above.

> relations
Acalyph., Crot. tig., Jatroph. c., Mancin., Mercurialis Perennis Mercurialis, Ricinus Communis Ricinus, Yucca Yucca fil., and the various Euphorbias.

> compare
Compare Cucurb., Granat., Filix m.

Tabacum > compare
Compare Nicotinum. Cold sweat, Ver. (Ver. on forehead; Tab. all over). Coldness in abdomen, Colchicum Autumnale Colch., Elps., Lachesis Lach. Spasmodic pains along l. ureter, Berberis Vulgaris Berb. Ménière's disease, Salicin. Incarcerated hernia, Aconite Aco., Nux Vomica Nux, Op., Sulphur Sul. Chills or creeps precede headache (Chelidonium Majus Chel., accompany headache). Sinking immediately after meals, Arsenicum Album Ars., Cin., Lycopodium Lyc., Selenium Sel., Stp., Ur nit. Hair sensation, Kali Bich K. bi.., Silicea Sil. (Tab., in eye). Blindness, optic atrophy, Carboneum Sulphuratum Carb. s., Benzinum Benz. din., Filix. m. Emissions, heart, anaemia, Digitalis Purpurea Dig. Retracted abdomen, Pb. Jerking of legs in bed, Menyanthes Meny. As if a hand clutching throat (Belladonna Bell., intestines).

≡ show all authors ...