Foxglove, Digitalis, Digital, Digit, Digitalinum, Dig.
HPUS
indication of Digitalis Purpurea:
Anxiety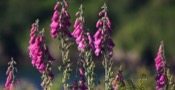 Have you ever used Digitalis Purpurea? Yes No


< < Digitalis Purpurea- main page

Below are the main rubriks (i.e strongest indications or symptoms) of Digitalis Purpurea in traditional homeopathic usage, not approved by the FDA.
THROAT
Throat
Dryness in the throat.
Roughness and softness in the mouth, as if it was covered with velvet.
Roughness of the palate, as after smoking too much tobacco.
Scrapy, rough feeling in the palate.
Scraping and burning in the fauces and the oesophagus, after dinner and in the evening.
Sensation in the fauces, as if the walls of the pharynx were swollen or pressed together by a swelling of the tonsils.
Shooting sore throat, even when not swallowing.
Stitches in the posterior part of the palate and in the commencement of the gullet, not observable when swallowing.
Pain as of soreness in the throat, when swallowing.
Soreness of the fauces and of the posterior nares, chiefly painful in the morning and evening, for several days.
Soreness of the mouth, the fauces and the oesophagus.
≡ more ...