Digitalis Purpurea - Mental (inc. personality) symptoms
Foxglove, Digitalis, Digital, Digit, Digitalinum, Dig.
HPUS
indication of Digitalis Purpurea:
Anxiety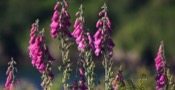 Have you ever used Digitalis Purpurea? Yes No


< < Digitalis Purpurea- main page

Below are the main rubriks (i.e strongest indications or symptoms) of Digitalis Purpurea in traditional homeopathic usage, not approved by the FDA.
MIND
Mind
Despondency; fearful; ANXIOUS about the future
Dullness of sense
Every shock strikes in epigastrium
Melancholia, dull lethargic with SLOW pulse.
Aversions, dislikes
open air
company
indolence, aversion to work
morning
Behaviour
disobedience
attempts to escape
to run away
industrious
nymphomania
shrieking; brain cry
Delirium
night
frightful
raging, raving
Delusions, imaginations, hallucinations, illusions
creatures and animals; insects
about criminals
illusions of fantasy
about self; circumstances; is a criminal
about self; circumstances; wrong; fancies has done wrong
visions or presence of phantoms, figures, people; converses with absent people
desire for open air
Desires, wants; sex, lustful
Excitement
night
stammers when talking to strangers
Mental exertion
Fantasies
of exaltation
of exaltation; lascivious
of exaltation; lively
Emotions, feelings, attitude, disposition
anguish
anger (see irritability and quarrelsome)
cowardice
impulsive; capriciousness
indecisive
indifference, apathy, etc.
daytime
evening
to everything
irritability
after sexual intercourse
after emission
mood; changeable, variable mood
morose
quarrelsome, argumentative
remorse
reproaches; himself
rage, fury (see insanity, mania, delirium)
excessively religious (see anxiety, despair, fear)
sensitive, oversensitive
to moral impressions
to music
to sensual impressions
suspicious
unhappy; despair
discouraged
unhappy; lamenting, regretting
complaining (see lamenting)
moaning, groaning
unhappy; sadness, mental depression
afternoon
evening
from emission
during the heat
from music
about things of little importance
weeping
unsympathetic
weeping, crying, tearful mood (lamenting)
afternoon
from music
Hurry
Intellectual faculties
impaired thinking; confusion
impaired thinking; confusion; evening
impaired thinking; confusion; as if intoxicated
impaired thinking; confusion; as after being intoxicated
impaired thinking; dull, sluggish
evening
impaired thinking; imbecility
impaired thinking; weakness of mind
thoughts wandering
ideas; deficiency of ideas
Insanity
in alcoholics
mania, madness
from drinking (delirium tremors)
comes on suddenly
Insecure, uncertain, scared
anxiety
anxiety; evening
in the twilight
6 p.m.
anxiety; night
anxiety; of conscience (as if guilty of a crime)
anxiety; with fear
anxiety; about future
anxiety; from music
anxiety; while sitting
anxiety; during sleep (see dreams)
anxiety; before urination
anxiety; after urination
anxiety; on waking
anxiety; crying
fear
afternoon
evening
of death
of death; while walking
of evil
of insanity
of misfortune
from music
arising from stomach
weeping
frightened easily
starting, startled; from fright
starting, startled; during sleep; starting from sleep
Memory
active memory
forgetful
weakness of memory
Perception; senses; dull
Preoccupied; absorbed, buried in thought; introspection
Restlessness, nervousness
night
after sexual intercourse
Sighing (see respiration)
Talking, conversation
obstinate
dislike of talking, desire to be silent, taciturn
secretive
speech; wandering; at night
Unconsciousness
after sexual intercourse
before stool
Wearisome, tired
Weeping
Work; impossible to work
≡ more ...