Foxglove, Digitalis, Digital, Digit, Digitalinum, Dig.
HPUS
indication of Digitalis Purpurea:
Anxiety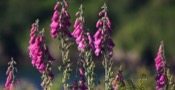 Have you ever used Digitalis Purpurea? Yes No


< < Digitalis Purpurea- main page

Below are the main rubriks (i.e strongest indications or symptoms) of Digitalis Purpurea in traditional homeopathic usage, not approved by the FDA.
GENITALS ETC
Urine
Fruitless effort to urinate.
Constant urging to urinate, with scanty discharge each time.
Feeling of fulness continuing after urination.
Increased desire to urinate after a few drops have passed, causing patient to walk about in distress, although motion increases the desire.
Constriction and burning as if the urethra was too small; enlarged prostate.
Urine scanty, thick, turbid, blackish.
Brick-dust sediment in the urine.
Throbbing pain in region of neck of bladder, during straining effort to pass water.
Urethra
Nightly emissions with great weakness of the genitals; with sadness and despair (Digitaline); after emission sensation of something running out of urethra.
Male
Balanitis, phimosis, with great burning on urinating; dropsy of the prepuce.
Testicle swollen.
Genitals
Hydrocele.
Leucorrhoea.
Menses
Labor-like pains in abdomen and back, before the menses.
≡ more ...