Foxglove, Digitalis, Digital, Digit, Digitalinum, Dig.
HPUS
indication of Digitalis Purpurea:
Anxiety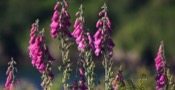 Have you ever used Digitalis Purpurea? Yes No


< < Digitalis Purpurea- main page

Below are the main rubriks (i.e strongest indications or symptoms) of Digitalis Purpurea in traditional homeopathic usage, not approved by the FDA.
GENITALS ETC
Urine
Suppression of urine.
Forcing pressure on the bladder, with sensation as if this was too full, this sensation did not disappear on urinating.
Urging to urinate.
Constant urging to urinate, even after micturition.
Violent ineffectual urging to urinate.
Increased urging to urinate, with scanty discharge each time.
Uninterrupted urging to urinate, and every time only a few drops of dark-brown, hot urine, scalding while discharged, are emitted (aft. 9 d.).
Frequent urging to urinate, while the red urine only passes in drops, with burning in the urethra and glans.
Frequent discharge of water colored urine, in small quantity.
Constant urging to urinate at night, and when the arose for the purpose, dizziness and vertigo.
She has to rise every night to pass water.
Rare micturition, only twice a day and a little at a time, but without trouble; but after forty-eight hours more copious urine, with cutting drawing in the bladder.
Urging to urinate, with much urine of normal color (aft. 8, 9, 10 h.).
Urging to urinate, with copious discharge of ordinary urine.
Inordinately increased secretion of urine, day and night, for forty-eight hours, with much exhaustion (aft. 2 h.).
Diuresis.
Increased discharged of urine, with increased urging thereto, and inability to retain it.
Inability to retain the urine.
Involuntary discharge of urine.
Frequent copious discharge of pale yellow, watery urine.
Frequent passing of watery urine.
Frequent and copious passing of dark urine.
Dark colored urine.
Dark urine, without urging, in standing, this became more red and also turbid (aft. 14 h.).
Acrid urine.
Thin, brownish sediment in the urine, when it has stood several hours.
During urination, a contractive pain in the urinary bladder, with difficulty passage of the urine.
While urinating, a pressing burning in the middle of the urethra, as if this was too narrow, but this diminishes during the continuance of micturition.
During the diuresis and diarrhoea, small, quick pulse, while the hands and feet are cold.
After the diuresis, retention of urine, then nausea, vomiting and diarrhoea.
Inflammation of the neck of the bladder.
Urethra
Frequent sensation at night, as if pollutions were coming, without emission of semen; in the morning, a viscid fluid at the orifice of the urethra.
Male
In the glans, an itching irritation.
In the right testicle, pain as from a contusion.
Pollutions, almost every fourth night, always with lewd dreams.
Pollutions, with subsequent pain in penis.
Genitals
Excitation of sexual desire.
Excited sexual organs, with repeated, painful erections, disturbing the night's sleep.
Excited sexual desire, with frequent erections, by day.
Fancy very much excited voluptuously, with lascivious images by day and night, and frequent erections.
≡ more ...