Foxglove, Digitalis, Digital, Digit, Digitalinum, Dig.
HPUS
indication of Digitalis Purpurea:
Anxiety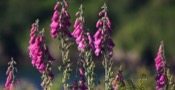 Have you ever used Digitalis Purpurea? Yes No


< < Digitalis Purpurea- main page

Below are the main rubriks (i.e strongest indications or symptoms) of Digitalis Purpurea in traditional homeopathic usage, not approved by the FDA.
GENITALS ETC
Urine
Continued urging, in drops, dark, hot, burning, with sharp cutting or Throbbing pain at neck of bladder, As if a straw was being thrust back and forth; worse at night
Suppressed
Ammoniacal, and turbid
Urethritis, phimosis, strangury
Full feeling after urination
Constriction and burning, as if urethra was too small
Brick-dust sediment.
Bladder
Hydrocele; scrotum enlarged like a bladder
Male
Gonorrhoea, balanitis (Merc Viv Merc.), with oedema of prepuce
Womb
Uterine hemorrhage.
Genitals
Male; Nightly emission (Digitalin), with great weakness of genitals after coitus
Dropsical swelling of genitals ( Sulphur Sulph.) Enlarged prostate.
Menses
Female; Labor-like pains in abdomen and back before menses
≡ more ...