Foxglove, Digitalis, Digital, Digit, Digitalinum, Dig.
HPUS
indication of Digitalis Purpurea:
Anxiety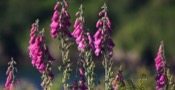 Have you ever used Digitalis Purpurea? Yes No


< < Digitalis Purpurea- main page

Below are the main rubriks (i.e strongest indications or symptoms) of Digitalis Purpurea in traditional homeopathic usage, not approved by the FDA.
GENERAL
General
An active principle (glucoside) of Digitalis purpurea. C5 H8 02. (Schimiedeburg); C27 H45 O15 (Kosmann). Trituration.
Digilalinum is a poison of very great activity. It produces a profound effect on muscular tissue, both voluntary and involuntary, more especially on the heart. It causes profound prostration, even to inability to move a muscle. Paralytic weakness.
numbness. tremulousness of the limbs. Cold, clammy surface. Gooseflesh. The heart is slowed, or else its action is made rapid and feeble or "sensation as if the heart stood still." Digitalis has Sensation as if the heart would stand still if he moved. According to Hale Dgn. is specially indicated in cases of "overburdened heart where it is constantly labouring." Irregular and intermittent action. A sinking, faint sensation is felt at the epigastrium, nausea and vomiting of yolk-of-egg matter, shivering, diarrhoea, the stools not being noted characteristically white as are those of the plant. Sensitiveness of eyes to light and nose to odours. Disorders of vision and hearing are very numerous. One prover noted "frontal headache, dazzlings, loss of appetite, sinking at epigastrium, intestinal flatulence, borborygmi, eructation, slight abdominal pains.
urine abundant. great fatigue.
painful heat in evening but no thirst." For a whole day pressure in supra-orbital region towards frontal sinus, and when walking a feeling as if the ground gave way under his feet. Sexual weakness is shown in Deep sleep in which an emission occurs without waking him;" and "Sexual power diminished or quite abolished temporarily." Dgn. has cured the following case Mrs.
had for over a year swelling of right hand and fingers, which she thought to be rheumatic. Digitalis has the symptom, "swelling of right hand and fingers," and this would have been given but only Digitalin was at hand. This was given in 4x. After the second dose the swelling began to subside, and in two or three days was completely gone. (H. W., xxvi. 552). The heart pains are agg. lying on left side. Many symptoms appear on waking in the morning.
chilliness and fever in afternoon and evening. Confusion of the head is amel. walking in open air. Symptoms are amel. after dinner. Drinking = nausea, and vomiting. Pains in trunk agg. during rest.
Clinical
Asthma. Diarrhoea. Emissions. Exophthalmus. Heart, affections of. Palpitation. Spermatorrhoea. Vertigo. Vision, hallucinations of.