Foxglove, Digitalis, Digital, Digit, Digitalinum, Dig.
HPUS
indication of Digitalis Purpurea:
Anxiety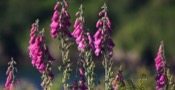 Have you ever used Digitalis Purpurea? Yes No


< < Digitalis Purpurea- main page

Below are the main rubriks (i.e strongest indications or symptoms) of Digitalis Purpurea in traditional homeopathic usage, not approved by the FDA.
GENERAL
General
Comes into play in all diseases where the heart is primarily involved, where the pulse is Weak, irregular, intermittent, abnormally slow, and dropsy of external and internal parts. Weakness and dilation of the myocardium. Its greatest indication is in failure of compensation and especially when Auricular fibrillation has set in. Slow pulse in recumbent posture, but irregular and dicrotic on sitting up. Auricular flutter and fibrillation especially when subsequent to rheumatic fever. Heart block, very slow pulse. Other symptoms of organic heart disease, such as great weakness and sinking of strength, faintness, coldness of skin, and irregular respiration; cardiac irritability and ocular troubles after tobacco; jaundice from induration and Hypertrophy of the liver, frequently call for Digitalis Purpurea. Jaundice with heart disease. Faint, as if dying. BLUISH appearance of face. Cardiac muscular failure when asystole is present. Stimulates the heart's muscles, increases force of systole, increases length. Prostration from slight exertion. Collapse.