Foxglove, Digitalis, Digital, Digit, Digitalinum, Dig.
HPUS
indication of Digitalis Purpurea:
Anxiety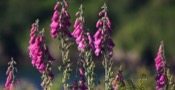 Have you ever used Digitalis Purpurea? Yes No


< < Digitalis Purpurea- main page

Below are the main rubriks (i.e strongest indications or symptoms) of Digitalis Purpurea in traditional homeopathic usage, not approved by the FDA.
FEVER AND CHILL
Fever and chill
Sudden flushes of heat, followed by great nervous weakness.
Noon
Afternoon
Afternoon; with perspiration
In the open air; while walking
On going into the cold air
Running upwards
Beginning in particular area
arms
feet
soles
fingers
tips of fingers and toes
hands
palms and soles
and feet
palms and soles
Chilliness (see also whole body
temperature)
temperature); in open air; while walking in the open
temperature); during intermission of fever
temperature); with perspiration
temperature); before stool
Creeping
After eating
External
When heated, overheated
Internal
night; during first sleep
With perspiration
after chill
Shaking, shivering, rigors
Sides, one-sided
Before stool
At certain time of day or night; from 5 p.m.
When uncovering, undressing
Afternoon
Afternoon; after dinner
Night
Alternating with chills
Spreading up body
Localised; cerebro-spinal fever
Burning heat
with swollen blood vessels
With chill
Continued fever; afternoon
After eating
after dinner
External heat
with chilliness
Inflammatory fever
Intense heat
Fever from irritation
Perspiration with heat
One-sided
Stages of chill, heat and sweat
chill followed by heat
chill followed by heat, then sweat
chill then sweat, without intervening heat
Vomiting
≡ more ...