Foxglove, Digitalis, Digital, Digit, Digitalinum, Dig.
HPUS
indication of Digitalis Purpurea:
Anxiety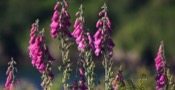 Have you ever used Digitalis Purpurea? Yes No


< < Digitalis Purpurea- main page

Below are the main rubriks (i.e strongest indications or symptoms) of Digitalis Purpurea in traditional homeopathic usage, not approved by the FDA.
FEVER AND CHILL
Fever
Chilliness and shivering.
Feet and hands cold, palms moist.
Shivering over back, esp. sacral region.
Heat in nape rising up into head and extending over whole body.
Profuse sweat at night.
Cold sweat; after a cup of coffee.
Bathed in cold sweat.
≡ more ...