Foxglove, Digitalis, Digital, Digit, Digitalinum, Dig.
HPUS
indication of Digitalis Purpurea:
Anxiety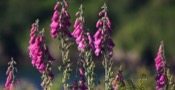 Have you ever used Digitalis Purpurea? Yes No


< < Digitalis Purpurea- main page

Below are the main rubriks (i.e strongest indications or symptoms) of Digitalis Purpurea in traditional homeopathic usage, not approved by the FDA.
EXTREMITIES, LIMBS
Upper extremities
Pressure in shoulders.
Drawing pain in biceps muscle.
Pressure; throbbing, tearing in elbows (r. at 4 p.m.).
Pressing asunder in the fingers.
(Swelling of r. hand and fingers.)
Lower extremities
Cramp in thigh and calves.
Pains in knees; above r. knee.
Sprained pain in r. ankle.
On walking sensation as if the ground sank away under the foot.
Numb sensation of l. foot obliging him to move it frequently.
Pressing asunder of toes of r. foot.
≡ more ...