Foxglove, Digitalis, Digital, Digit, Digitalinum, Dig.
HPUS
indication of Digitalis Purpurea:
Anxiety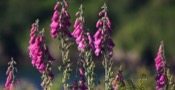 Have you ever used Digitalis Purpurea? Yes No


< < Digitalis Purpurea- main page

Below are the main rubriks (i.e strongest indications or symptoms) of Digitalis Purpurea in traditional homeopathic usage, not approved by the FDA.
EXTREMITIES, LIMBS
Extremities, limbs
Swelling of the feet
Fingers go to sleep easily
Coldness of hands and feet
Rheumatic pain in joints
Shining, white swelling of joints
Muscular debility
Nocturnal swelling of fingers
Sensation in legs as If a red hot wire suddenly darted through them (Dudgeon).
≡ more ...