Vegetable Charcoal, Carbo Veg, Carboveg, Charcoal, Carbo-v, Carb-v.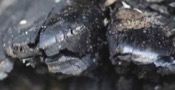 Below are the main rubriks (i.e strongest indications or symptoms) of Carbo Veg in traditional homeopathic usage, not approved by the FDA.


Have you ever used Carbo Veg? Yes No

THROAT
Throat
Scraping, rawness, burning in throat.
Sloughing of some parts of swollen fauces; fetid ichor.
Swallowing, coughing or blowing nose, cause pain in posterior nares and fauces; as if sore.
Food cannot be easily swallowed, throat seems constricted, no pain.
Swelling and inflammation of uvula, with stitches in the throat.
Larynx
Deep voice, failing if exerted, no pain.
Hoarseness and rawness, worse evenings; aphonia mornings; in damp, cool weather; chronic; worse from damp evening air, warm, wet weather, and from talking.
Dingy, purplish, swelling of the lining of the larynx.
Ulcerative pain or scraping and titillation in larynx.
Unusual feeling or dryness in trachea, not relieved by hawking.
≡ more ...