Vegetable Charcoal, Carbo Veg, Carboveg, Charcoal, Carbo-v, Carb-v.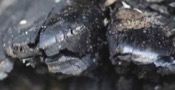 Have you ever used Carbo Veg? Yes No


Below are the main rubriks (i.e strongest indications or symptoms) of Carbo Veg in traditional homeopathic usage, not approved by the FDA.
HEAD
Head
Aching and beating over eyes, or in whole head, commencing at nape of neck; worse evening; after a meal, with congestion to head; after a debauch.
Headache
Head painfully sensitive to pressure, especially of the hat; worse from taking cold and from getting warm in bed.
Painful throbbing in the head, during inspiration.
Pressive headache just over the eyes, with tears; eyes pain on moving them.
Dull headache in occiput; violent pressive pain in lower portion of occiput.
Scalp
Scalp painful to touch.
Hair falls out; worse on back of head; scalp itches in evening when warm in bed.
Headache like from constriction of the scalp.
Inner head
Head feels heavy as lead.
Rush of blood to head, nosebleed.
Congestion to head, with spasmodic constriction, nausea and pressure over eyes, feeling of coryza; from overheated rooms.
Pressure in both temples and on top of head.
Violent tearing on forehead, at small spot near temple.
Tearing and drawing in left side of occiput.
≡ more ...