Vegetable Charcoal, Carbo Veg, Carboveg, Charcoal, Carbo-v, Carb-v.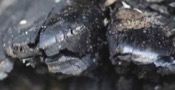 Have you ever used Carbo Veg? Yes No


Below are the main rubriks (i.e strongest indications or symptoms) of Carbo Veg in traditional homeopathic usage, not approved by the FDA.
GENERALITIES
Sleep
Strong inclination to sleep during the day, disappearing on movement.
Sleep in the morning, or early in the evening (with sleeplessness at night).
Comatose sleep, with rattling in the throat.
No sleep, with inability to open the eyes.
Retarded sleep and sleeplessness caused by uneasiness in the body.
At night, or in the evening, when in bed, headache, anguish, with oppression of the chest, startings and pains in the limbs, cold in the hands and in the feet, &c.
Dreams frequent, fantastical, anxious and terrible, with tossing about of the body, or with starting and fright.
Generalities
Pains with anxiety, heat and complete discouragement, or with dejection after the paroxysm.
Acute pullings and arthritic drawing pains, with paralytic weakness, chiefly in the limbs, and sufferings from flatulency, or with difficulty of respiration, when it is the chest which is attacked.
Pain as from dislocation in the limbs, or pain as if caused by a strain in the loins.
Burning pains in the limbs and in the bones, ulcers.
Pulsation in different parts of the body.
Sufferings from a strain in the back, or from riding in a carriage.
Trembling and jerkings in the limbs by day.
Numbness of the limbs readily induced.
The majority of symptoms appear while walking in the open air.
Emaciation, esp. of the face.
Contusive pain in all the limbs, esp. in the morning, immediately on rising.
Great weakness of the flexors.
Great debility and weakness as soon as he makes the least exertion.
Excessive dejection, frequently proceeding to fainting, even in the morning in bed, or else at the beginning of a walk.
Sudden prostration of strength.
General dejection towards noon, with necessity to support the head, and to be still.
Paralysis, and total absence of pulse.
Liability to take cold.
≡ more ...