Vegetable Charcoal, Carbo Veg, Carboveg, Charcoal, Carbo-v, Carb-v.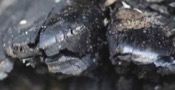 Have you ever used Carbo Veg? Yes No


Below are the main rubriks (i.e strongest indications or symptoms) of Carbo Veg in traditional homeopathic usage, not approved by the FDA.
FEVER AND CHILL
Fever and chill
Feverish coldness in the evening; he does not perceive the warmth of the stove.
Coldness in the left arm and in the left leg.
Anxiety like a fever, the hands are cold and she trembles with it.
Frequent chilliness; especially at night, chilliness and cold.
In the evening, chilliness.
Shaking chill of one hour, frequently.
Chill and thirst.
Internal chill, with severe thirst.
In the evening, febrile rigor and weariness, and even before he goes to sleep, a flying heat (aft. 10 d.).
Chilliness and heat toward evening (aft. 12 d.).
Febrile rigor in the morning, with thirst, shaking and blue finger nails till in the afternoon; then in the evening heat and sweat, without thirst.
For several days at 11 A.M., a chill; at 6 P.M., heat.
In the evening, sensation of heat, with great anguish, though she was cold to the touch all over.
In the evening, general burning heat, with great weariness and delirium at night.
Much heat the whole day, but the feet always cold.
In the evening, very much excited, with distended blood-vessels.
At night in bed, heat.
At night she could not sleep for heat in her blood.
Very much inclined to sweats.
Frequent profuse sweat in the face (in a boy of two years).
In the morning, on awaking, increased sweat (3d d.).
Warm sweat in the morning (aft; 29 h.).
Night-sweat of putrid odor.
Sour smelling sweat (aft. 8 d.).
≡ more ...