Vegetable Charcoal, Carbo Veg, Carboveg, Charcoal, Carbo-v, Carb-v.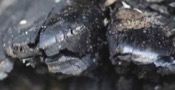 Below are the main rubriks (i.e strongest indications or symptoms) of Carbo Veg in traditional homeopathic usage, not approved by the FDA.


Have you ever used Carbo Veg? Yes No

FACE
Face
Objective.
Great paleness of the face,
Color of the face grayish-yellow,
Subjective.
Drawing pain in the upper and lower jaw on both side, with drawing in the head and confusion of it (after two hours),
Tearing in the face,
Twitching pain in several portions of the face,
Soreness of the facial bones of the upper and lower jaws,
Cheeks.
Swelling of the cheeks,
Glowing heat of the cheeks, after sitting a short time,
Pain in the left cheek, as from a boring-burning in it, at intervals (after six days),
Drawing in the cheeks, for two days,
Twitching-drawing pain in the cheeks and jaw (after one day),
Fine tearing stitches in the right check (after three hours),
Tearing pain in the face, in the left cheek,
Jerklike tearing in the left zygoma, in front of the ear, in the evening, in bed,
Jerklike tearing pain in the upper jaw, on the right side,
Lips.
Swelling of the lips,
Swelling of the upper lip and cheek, with jerking pain,
The right corner of the mouth is ulcerated,
Twitching of the upper lip,
Tearing pain in the left corn of the mouth, extending thence to the cheeks,
Chin.
Swelling of the face about the chin, for two hours,
Drawing, extending from the right corner of the mouth to the chin,
Cramplike pain in the lower jaw (after thirteen days),
Tearing-jerking of the left lower jaw (after four days),
Face pale,
Face worn-looking,
Aching in superior maxillary bones,
Drawing tearing in facial bones,
Twitching of upper lip,
Dry, cracked, swollen lips (tenth day),
≡ more ...