Vegetable Charcoal, Carbo Veg, Carboveg, Charcoal, Carbo-v



Available
in 6X-30X, 200X, 3C-30C, 200C, 1M-50M, CM from $6.50
Purchase options
HPUS indication of Carbo Vegetabilis: Exhaustion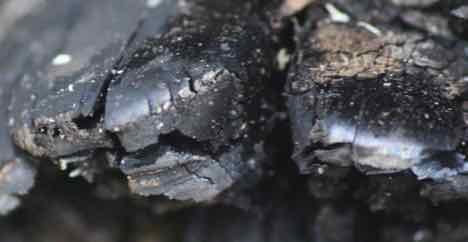 Homeopathic remedies are prescribed on the basis that in a tiny dilution like cures like, so while very dilute Carbo Vegetabilis may help, unprocessed Carbo Veg may be best avoided.
Below are the main rubriks (i.e strongest indications or symptoms) of Carbo Veg in traditional homeopathic usage, not reviewed by the FDA.
< < Carbo Veg - main page
EXTREMITIES, LIMBS
Extremities, limbs
Heavy, stiff; feel paralyzed; Limbs, go to sleep; want of muscular energy; joints weak
Pain in shins
Cramp in soles; feet numb and sweaty
Cold from knees down
Toes red, swollen
Burning pain in bones and limbs.
Coldness
night
with diarrhoea
upper limbs
left
hands
hands; evening
hands; during chill
hands; icy
fingers; tips
lower limbs; sensation of coldness
lower limbs; knee
night
during chill
lower limbs; leg
left; during chill
lower limbs; foot
evening
evening; in bed
night
night; in bed
after dinner
during fever
during headache
icy cold
after period
mental exertion
hip; left
Constriction; wrist; constriction of tendons in wrist
thigh
Contraction of muscles and tendons
wrist; shortening of tendons
hand
tendons of hand
fingers
hip
thigh
hollow of knee
Cramps; upper limbs
hand
fingers
lower limbs; night
lower limbs; while walking
hip
thigh
when climbing stairs
knee
leg
night
while walking
calf
night
foot; sole
evening; after lying down
in bed
while walking; while walking in open air
Pulling up limbs
Emaciated, extremely thin; diseased limb
Fullness; leg; veins of leg
leg; when leg hanging down
foot; veins of foot
Gangrene
toes; in aged persons
Hands and feet; chilblains
chilblains; feet
corns; burning
corns; pressing
Letting limbs hang down
Heat; hand
hand; evening; after lying
hand; with anxiety
hand; during period
hand; ball of hand
hand; palm
during period
foot
sole
sole; during period
Heaviness; tired limbs
night
when rising after sitting
walking in open air
upper limbs
left
on movement
while writing
lower limbs
night
while walking
leg
foot
after dinner
Diseased hip-joint (see pain in hip)
Movements and positions; convulsion; hand
flexed; limbs feel pulled; upwards
on abdomen
involuntarily
flexed; thigh, flexed on to abdomen
jerking; lower limbs
jerking; leg
movement
when sitting down
lameness; upper limbs
rheumatic
lameness; fingers
lameness; lower limbs
lameness; thigh
lameness; knee
trembling
morning
afternoon
after stool
hand; night
lower limbs
twitching
daytime
evening; in bed
upper limbs
upper limbs; evening; in bed
lower limbs
lower limbs; evening; in bed
thigh
thigh; evening; in bed
thigh; hamstrings
thigh; hamstrings; morning, in bed
leg
leg; evening; in bed
Numbness (see tingling)
during heat
while lying down
on limbs
upper limbs
right; lying on the right side
night
while lying on it
forearm
wrist
hand
morning; on washing
night
after immersion in water
lower limbs
thigh
while walking
knee
leg
foot
Pain
night
before chill
on beginning to move
rheumatic
in cold weather
poisoning by mercury
wet weather
in bones
joints; gouty
joints; paralytic
upper limbs
evening; in bed
night
night; when lying on it
lying on it
taking hold of anything
shoulder
right
on movement
rheumatic
upper arm; extending to other parts; downward
upper arm; bone
forearm
wrist
morning
on movement
paralytic
in wind
hand
pulsating
back of hand
fingers; joints
fingers; nails; under the nails; as from splinters
fingers; fourth finger; tip
thumb; joints; gouty
thumb; tip
lower limbs
night
beginning to move
paralytic
rheumatic
extending to other parts; downward
bones
hip; on walking
thigh
paralytic
raising the limb
rheumatic
knee
on climbing stairs
paralytic
rising from sitting
while sitting
lower leg
labour-like
rheumatic
while sitting
shin bone
shin bone; with pain in back of head (occiput)
foot
bones
sole
sole; while walking
toes; ulcerative
toes; first toe (large toe)
joints
aching
hand; back of hand
boring
before chill
bones
upper limbs
upper arm; bone
fingers
fingers; joints
fingers; joints of first finger; middle joint
fingers; second finger; last joint of
lower limbs; bones
burning
evening, in bed
in bed
during period
joints
upper limbs
upper limbs; joints
shoulder
shoulder; right
shoulder; on top
upper arm
elbow
forearm
hand
hand; during period
hand; palm
hand; palm; during period
fingers
fingers; joints
fingers; second; knuckles
fingers; third; knuckles
lower limbs
hip
hip; external
thigh
thigh; night, in bed
knee
foot; sole
foot; sole; during period
foot; sole; while sitting
foot; sole; after standing
foot; sole; while walking
pulling
night
upper limbs
upper limbs; night
upper limbs; night; lying on it
upper limbs; on the one lain on
upper limbs; tearing
upper limbs; bones
shoulder
shoulder; right
shoulder; rheumatic
upper arm
upper arm; extending downward
upper arm; bone
elbow
elbow; in wind
forearm
forearm; movement
forearm; front part
wrist
wrist; morning
wrist; movement
wrist; in wind
hand
fingers
fingers; joints
fingers; first finger
fingers; second finger
lower limbs
lower limbs; left
lower limbs; paralytic
hip
hip; while walking
hip; extending downward
thigh
thigh; evening; in bed
thigh; cramp-like
thigh; lying on it
thigh; rheumatic
thigh; sprained
thigh; while walking
thigh; outer side
knee
knee; while standing
leg
leg; rheumatic
leg; shin
foot
foot; while sitting
pinching; lower limbs
pressing
upper limbs
hand
sore, bruised
with scanty period
joints
joints; morning; in bed
upper limbs
elbow
elbow; morning
elbow; morning; in bed
hand
hand; back of hand
lower limbs
foot
foot; sole; while walking
as if sprained
wrist
hand
lower limbs
foot
stitching, sudden, sharp
warm room; bed
upper limbs
shoulder
shoulder; right
shoulder; morning
shoulder; during movement
hand
fingers
fingers; rising from sitting
fingers; as from splinter
fingers; joints
fingers; first finger
fingers; first finger; joints of; middle finger
fingers; first finger; skin
fingers; second finger; knuckles
fingers; second finger; knuckles; last
thumb; jerking
thumb; ball of
lower limbs
lower limbs; bones
thigh
thigh; while walking
thigh; extending downward
thigh; upper part
knee; knee cap
knee; knee cap; after rising from a seat
leg
leg; calf
ankle
foot
toes
toes; first toe (large toe)
tearing
morning; on waking
night
before chill
during fever
upper limbs
upper limbs; morning; in bed
upper limbs; bones
upper limbs; joints
shoulder
shoulder; right
shoulder; morning; on walking
shoulder; on movement
shoulder; paralytic
upper arm
upper arm; movement
upper arm; paralytic
forearm
forearm; left
forearm; extending to hand
forearm; thumb side of forearm
wrist
wrist; when grasping anything
hand
hand; morning
hand; palm
fingers
fingers; evening
fingers; joints of fingers
fingers; joints of fingers; second finger
fingers; joints of fingers; third finger
fingers; first finger; joints of finger
fingers; first finger; joints of finger; last joint
fingers; third finger
fingers; fourth finger; movement
fingers; fourth finger; tip
fingers; thumb
fingers; thumb; joints of thumb
fingers; thumb; joints of thumb; last
fingers; thumb; tip; burning
lower limbs
lower limbs; bones
hip
hip; comes on suddenly
hip; extending to other parts; sacrum
thigh
thigh; comes on suddenly
thigh; extending downward
knee
leg
leg; calf
leg; calf; extending to other parts; downward
foot
toes
toes; while walking
toes; nails
toes; second toe
toes; third toe
toes; fourth toe
Paralysis
wrist; sensation of paralysis
fingers; sensation of paralysis
when grasping
lower limbs
painless
knee; sensation of paralysis; after walking
leg, sensation of paralysis
Perspiration
morning
hand
palm
fingers
tips
foot
cold
wearing away skin
profuse
while walking
toes; between toes
causing rawness
Pulsation, throbbing; upper limbs
hand
fingers; tips of
thumb
Relaxation
upper limbs; when laughing
leg
Restlessness
evening; in bed
lower limbs; thigh
lower limbs; leg
evening
night; in bed
lower limbs; feet
Sensitive; foot; sole
Shrivelled (shrunken); sensation as if short; wrist
Skin; chicken pox (see swelling); lower limbs
chicken pox (see swelling); lower limbs; during pregnancy
chicken pox (see swelling); leg
discoloration; blue
discoloration; hand; blueness
discoloration; fingers; nails; blueness
during chill
discoloration; fingers; nails; yellow
discoloration; foot; red
discoloration; toes; red
deep, narrow openings (fistulae); hip
ganglion; on wrist
itching
upper limbs
upper limbs; night
hand
hand; between fingers
hand; palm
hand; palm; night
hand; fingers
lower limbs
thigh
thigh; between
thigh; near genitals
nodules; lower limbs
out-break on skin
blisters; containing fluid
blotches
patches
upper limbs; boils
upper limbs; elevations
upper limbs; itching
upper limbs; pimples
upper limbs; like nettle rash
upper arm; boils
upper arm; pimples
forearm; boils
wrists; blotches
hand
hand; fine
hand; itching
hand; pimples
hand; rash
hand; like nettle rash
hand; back of hand; pimples
lower limbs
lower limbs; blisters
lower limbs; blisters; itching
thigh; blotches
thigh; herpes; itching
thigh; between thighs
knee
knee; herpes
knee; blisters
knee; blisters; itching
leg; blotches
leg; eczema
leg; itching
calf; blotches
calf; like nettle rash
ulcers; upper limbs; painless
ulcers; fingers
tips
ulcers; lower limbs
black base
bleeding easily
bluish with red circle
burning
lifting limb
offensive smelling
gangrenous
painless, slow developing
mottled
painless
varicose
warmth
ulcers; leg
burning
gangrenous
painful; night
warmth
ulcers; toes
tips
Stiffness
walking
lower limbs
evening; after a siesta
walking
thigh
while standing
knee
on beginning to move
Swollen; upper limbs; black
wrist
palm surface of wrist
fingers
lower limbs
painful; stitching, sudden, sharp
red
knee; not visible
leg; calf
foot
night
red
stinging
toes
red
Tension, tightness; upper limbs
shoulder
wrist
hand
lower limbs
hip
while walking
thigh
morning
knee
after sleep
while walking
hollow of knee
Tingling, prickling, asleep (see numbness)
upper limbs
side lain on
lower limbs
Unsteadiness; knee
Water sensation; as if foot were dipped into cold water
Weakness
after least exertion
paralytic
tottering
joints
morning; in bed
rising
upper limbs
right
on movement
when taking hold of something
while writing
shoulder
right
paralytic
wrist
paralytic
hand
fingers
when grasping
paralytic
lower limbs
hip
knee
while standing
while walking
leg
calf