Vegetable Charcoal, Carbo Veg, Carboveg, Charcoal, Carbo-v, Carb-v.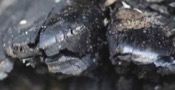 Below are the main rubriks (i.e strongest indications or symptoms) of Carbo Veg in traditional homeopathic usage, not approved by the FDA.


Have you ever used Carbo Veg? Yes No

EXTREMITIES, LIMBS
Extremities, limbs
Limbs feel bruised; numb; "go to sleep" when lying on them.
Drawing pain in limbs.
Burning in limbs; in hands and soles, during menses.
Rheumatic pains, with flatulency.
Upper extremities
Burning on right shoulder.
Drawing in the arm on which he is lying at night.
Bruised pain in both elbow-joints.
Arms weary when writing.
Drawing, tearing in left forearm, from elbow to hand.
Tearing in either wrist; in finger of left hand.
Hands burn; icy-cold; tip of fingers covered with cold sweat.
Paralytic weakness of fingers when seizing anything.
Lower extremities
Heaviness in the lower limbs.
Severe laming, drawing pain from abdomen down left leg.
Tearing near and beneath left hip, extending to sacrum.
Hip disease, third stage; back, ichorous, offensive discharge; great weakness.
Ulcer on leg burns at night; discharge offensive; skin around mottled, purple.
Left lower leg feels paralyzed.
Toes red, swollen, stinging, as if frosted.
Cramp in soles, evening after lying down.
Tips of toes ulcerated.
≡ more ...