Vegetable Charcoal, Carbo Veg, Carboveg, Charcoal, Carbo-v, Carb-v.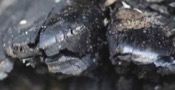 Below are the main rubriks (i.e strongest indications or symptoms) of Carbo Veg in traditional homeopathic usage, not approved by the FDA.


Have you ever used Carbo Veg? Yes No

EXTREMITIES, LIMBS
Upper extremities
Acute drawing and burning pains in the muscles and in shoulder-joint.
Pulling and acute drawing pains in the forearms, the wrists, and the fingers.
Relaxation of the muscles of the arms and of the hands, on laughing.
Tension in the joints of the hand, as if they were too short. Cramp-like contraction of the hands.
Heat of the hands; burning in the hands.
Icy-cold hands.
The tips of the fingers are covered with cold sweat.
Paralytic weakness of the wrists and of the fingers, esp. on grasping an object.
Fine granulated, and itching eruption on the hands.
Extremities of the fingers become ulcerated.
Lower extremities
Torpor and insensibility of the legs and feet.
Drawing and paralytic pain in the legs.
Acute pulling, and drawing, burning pains in the hip and knees.
Strong tension and cramp-like pains in the coxo-femoral joints, the thighs, and the knees.
Aneurism in the ham, with tensive pain and pulsation.
Tetters in the knee.
Cramps in the legs, and (esp.) in the soles of the feet, and at night, in the calves of the legs.
Fetid and easily bleeding ulcers, in the legs.
Obstinate torpor in the feet.
Perspiration of the feet.
Redness and swelling of the toes, with shooting pain, as if they had been frozen.
Ulceration in the extremity of the toes.
Senile gangrene, which begins in the toes and works all the way up the limb.
≡ more ...