Vegetable Charcoal, Carbo Veg, Carboveg, Charcoal, Carbo-v, Carb-v.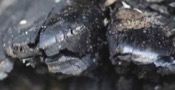 Have you ever used Carbo Veg? Yes No


Below are the main rubriks (i.e strongest indications or symptoms) of Carbo Veg in traditional homeopathic usage, not approved by the FDA.
ABDOMEN
Abdomen
Abdomen distended, better from passing wind upwards or downwards.
Burning, lancinating in epigastrium and deep in abdomen; worse from eating; with anguish, flatulency, diarrhoea.
Abdomen feels as if hanging heavily; walks bent.
Eating
Colic from flatulence, abdomen full to bursting; pain worse about bladder, or left of epigastrium; worse from least food; better from passing flatus, or hard stool.
Jaundice after too much or too rich food; from abuse or Merc Viv mercury.
Flatus
Meteorism, with loud rumbling; fetid or odorless flatus.
Tense, full feeling; flatulence.
Hypochondria
Painful to touch; clothing oppresses him, is unendurable.
Tension, or stitches in region of liver.
Pressing, pinching in region of spleen; quick, lightning like stitches; abdomen bloated.
Stomach
Aching in pit of stomach.
Burning in stomach, spreading down to small of back and up to the shoulders.
Contractive cramp, also at night, extending to the chest; abdomen distended; must bend double, worse lying down; pain paroxysmal, takes away the breath.
Feels acidity in stomach while lying on the back and when walking; stomach feels very heavy and as if hanging down.
Haematemesis; body icy-cold; breath cool; pulse thready, intermittent; fainting; hippocratic face.
Pain in stomach from nursing, or other loss of fluids.
≡ more ...