Cayenne Pepper, Capiscum, Capsic, Capsic., Capsicum, Caps.
HPUS
indication of Capsicum Annuum:
Fever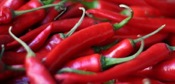 Below are the main rubriks (i.e strongest indications or symptoms) of Capsicum Annuum in traditional homeopathic usage, not approved by the FDA.


Please see our remedy relationship tool to view relationships across more than two remedies

< < Capsicum Annuum- main page





REVERSE RELATIONSHIPS
These are relationship sections of other remedies that refer to Capsicum Annuum. Where the text is greyed out, a relationship with that remedy is already described above.

Allium Sativum > compare
Compare: Capsicum Annuum Capsicum; Arsenicum Album Arsenic; Senega Senega; Kali Nitricum Kali-n.

> antidotes
Antidotes: Nux Vomica Nux; Capsicum Annuum Capsic.; Calc Carb Calc.

Caladium Seguinum > compare
Compare: Capsicum Annuum Capsic.; Phosphorus Phosph.; Causticum Caust.; Selenium Selen.; Lycopodium Lyc. Ikshugandha (sexual weakness, emissions, prostatic enlargement.)

Cina > antidotes
Antidote; Camphora Camph.; Capsicum Annuum Caps.

Cochlearia Armoracia > compare
Compare: Cannab; Sinapis Alba Sinapis; Capsicum Annuum Caps.

Lycopersicum > compare
Compare: Belladonna Bell ( follows well); Eupatorium Perfoliatum Eup. Perf.; Rhus Tox Rhus; Sanguinaria Nitrica Sanguin.; Capsicum Annuum Caps.

Menyanthes > compare
Compare: Capsicum Annuum Caps.; Pulsatilla Puls.; Calc Carb Calc.; Acid Phos Phos-ac.; Sanguinaria Canadensis Sang.

Sinapis Nigra > compare
Compare: Sulphur Sulph.; Capsicum Annuum Capsic.; Colocynthis Colocy.; Sinapis Alba Sinapis Alba - Sinapis Alba White Mustard - (throat symptoms marked; especially Pressure and burning, with obstruction in esophagus; sensation of a lump in oesophagus behind the Manubrium Sterni and with much eructation; similar symptoms in rectum). Mustard oil by inhalation (acts on the sensory nerve endings of the trigeminal. Relieves pain in middle ear disease and in painful conditions of nose, nasal cavities, and tonsils.)

Solanum Nigrum > compare
Compare: Belladonna Bell.; Solanum carolinense - Horse-nettle - (convulsions and epilepsy, twenty to forty-drop doses; is of great value in grand mal of idiopathic type, where the disease has begun beyond age of childhood; hysteroepilepsy, also in whooping-cough); Solan. mammosum - Solanum Mammosum Apple Of Sodom - (pain in left hip-joint); Solan. Oleraceum (swelling of mammary gland, with profuse secretion of milk); Solan. Tuberosum (cramps in calves and contraction of fingers; spitting through closed teeth); Solan. vesicarium (recommended in facial paralysis); Solaninum aceticum (threatening paralysis of the lungs in the course of bronchitis in the aged and children must cough a long time before able to raise expectoration; Solan. pseudo Capsicum Annuum Caps ( Acute pains, in lower abdomen); Solan. tuberos. aegrotans - Diseased Potato - (prolapse of the rectum, patulous anus; offensive breath and odor of body; tumors of rectum look like decayed potato; dreams of pools of blood); Solanum tuberosum - Potato Berries - (cramps in the calves of the legs and fingers).

≡ show all authors ...