Cayenne Pepper, Capiscum, Capsic, Capsic., Capsicum, Caps.
HPUS
indication of Capsicum Annuum:
Fever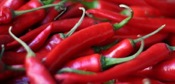 Have you ever used Capsicum Annuum? Yes No


< < Capsicum Annuum- main page

Below are the main rubriks (i.e strongest indications or symptoms) of Capsicum Annuum in traditional homeopathic usage, not approved by the FDA.
RECTUM, ANUS, STOOL
Rectum
Urging to stool, with pressive pain in the intestines, but he was constipated,
Tenesmus,
Haemorrhoids in the anus, which itch at times,
Blind haemorrhoids, haemorrhoids in the anus, which pain severely during stool,
Flow of blood from the anus, for four days,
Burning in the anus,
Burning pain in the anus (after three, four, and eight hours),
Biting-stinging pain in the anus, with diarrhoea-like stool,
Itching in the anus (after three, four, and eight hours),
Stool
Mucous diarrhoea, with tenesmus,
Diarrhoea, immediately, at once followed by an empty tenesmus,
Stool immediately after eating (at noon), with redness of the cheeks (after six hours),
After drinking, he was obliged to go to stool, but was constipated; only a little mucus passed,
As soon as he drank anything, he felt as though he would have diarrhoea, but only a little passed every time,
Small stool, consisting of bloody mucus,
Small passages, which consist of only mucus,
Small frequent passages, consisting of mucus, at times mingled with blood, and causing tenesmus, preceded by flatulent colic in the lower portion of the abdomen,
Constipation, as from too much heat in the abdomen,
≡ more ...