Cayenne Pepper, Capiscum, Capsic, Capsic., Capsicum, Caps.
HPUS
indication of Capsicum Annuum:
Fever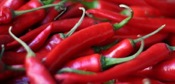 Have you ever used Capsicum Annuum? Yes No


< < Capsicum Annuum- main page

Below are the main rubriks (i.e strongest indications or symptoms) of Capsicum Annuum in traditional homeopathic usage, not approved by the FDA.
RECTUM, ANUS, STOOL
Stool
Stools frequent, small, with tenesmus and burning in rectum and bladder; bloody mucus, shaggy; greenish, frothy, worse at night; tenacious mucus mixed with black blood.
Diarrhoea with smarting, stinging or burning pains.
Hemorrhoids; burning, swollen, itching, throbbing; with sore feeling in anus; bleeding or blind; with mucous discharge; tenesmus recti et vesicae with small diarrhoeic stools, burning and lancinating pains; profuse flow of blood.
Suppressed hemorrhoidal flow, causing melancholy.
After a drink, must go to stool, but was costive; only a little mucus passed.
≡ more ...