Cayenne Pepper, Capiscum, Capsic, Capsic., Capsicum, Caps.
HPUS
indication of Capsicum Annuum:
Fever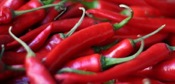 Have you ever used Capsicum Annuum? Yes No


< < Capsicum Annuum- main page

Below are the main rubriks (i.e strongest indications or symptoms) of Capsicum Annuum in traditional homeopathic usage, not approved by the FDA.
MODALITIES ETC
Desires and aversions
Appetite increased, alternating with aversion to food.
Thirsty, as the chill comes on.
Intense thirst, abdominal uneasiness, but no tenderness on pressure.
Desire for coffee, but it nauseates.
Position etc
Rest 3. Motion 26, 40, 44. Moving head 3, 4. Walking 3, 4, 26, 30, 36; in open air 40. Ascending 26. Lying 27. Desire to lie down 36. Must bend double 31.
Remission during day and before midnight.
Morning 7, 27. Evening 8, 27, 29. Night 13, 22, 27.