Cayenne Pepper, Capiscum, Capsic, Capsic., Capsicum, Caps.
HPUS
indication of Capsicum Annuum:
Fever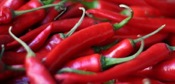 Below are the main rubriks (i.e strongest indications or symptoms) of Capsicum Annuum in traditional homeopathic usage, not approved by the FDA.


Have you ever used Capsicum Annuum? Yes No


< < Capsicum Annuum- main page
MIND
Mind
He makes reproaches and becomes angry at the faults of others; he becomes offended at trifles and finds fault,
Even in the midst of joking he becomes offended at the slightest trifles,
Obstinate, with out-cries (after three hours),
Indisposition to work or think,
Repugnance and fretfulness,
Anxiety and apprehensiveness; he imagines that he will die,
The aversion to everything and the fretfulness were dissipated by sleep (curative action. -H.),
Anxiety, which compels him to take a deep breath,
Fearfulness (after two hours),
He is very easily irritated,
Capricious; at one time constantly laughing, soon again crying,
An excessively busy uneasy mood,
Indifferent to everything,
He is taciturn, peevish, and obstinate,
He is taciturn, absorbed in himself,
Quiet mood (curative action),
Contentment (curative action),
Firmness, happy mood (curative action),
He is in a contented mood, is jocose, and sings, and still he becomes angry from the slightest causes (after four hours),
He makes jokes and utters witticisms,
≡ more ...