Cayenne Pepper, Capiscum, Capsic, Capsic., Capsicum, Caps.
HPUS
indication of Capsicum Annuum:
Fever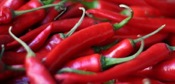 Have you ever used Capsicum Annuum? Yes No


< < Capsicum Annuum- main page

Below are the main rubriks (i.e strongest indications or symptoms) of Capsicum Annuum in traditional homeopathic usage, not approved by the FDA.
MIND
Mind
Aversions, dislikes
open air
everything
jesting
indolence, aversion to work
thinking
Behaviour
disobedience
industrious
kisses everyone
makes noises; whistling
during fever
shrieking; during sleep
singing
Delirium
Desires, wants
death
to kill; on waking
Symptoms follow intense emotions; home-sickness
Excitement
during chill
ailments from emotional excitement
Emotions, feelings, attitude, disposition
anger (see irritability and quarrelsome)
anger (see irritability and quarrelsome); alternating with cheerfulness
anger (see irritability and quarrelsome); at unfairness (indignation)
cheerful, happy
alternating with other states of mind; burst of passion
impulsive; capriciousness
impulsive; rashness
indifference, apathy, etc.
to everything
irritability
during chill
on waking
jesting
laughing
mildness
malicious
mirth, hilarity, liveliness, etc.
alternating with bursts of indignation
mood; alternating mood
mood; changeable, variable mood
mood; repulsive, bad mood
persistent
quarrelsome, argumentative
quiet disposition
reproaches; others
reserved
sensitive, oversensitive; during chill
sensitive, oversensitive; to noise
during chill
sensitive, oversensitive; easily offended
unhappy; discontent, displeased, dissatisfied, etc.
inanimate objects
unhappy; wants to injure self; suicidal disposition
unhappy; lamenting, regretting
unhappy; sadness, mental depression
weeping, crying, tearful mood (lamenting)
alternating with laughter
after coughing
during the heat
Home-sickness (see desires home)
with red cheeks
Hurry
Intellectual faculties
bright, intelligent, clear; witty
impaired thinking; absent-minded (see forgetful)
impaired thinking; confusion
morning
during chill
on waking
impaired thinking; dull, sluggish
morning
morning; on waking
during chill
after dreams
during heat
while perspiring
on waking
impaired thinking; idiocy
impaired thinking; imbecility
Insecure, uncertain, scared
anxiety
anxiety; during chill
anxiety; from noise
anxiety; before stool
fear
of being censured
of death
frightened easily
starting, startled
starting, startled; during heat
starting, startled; during sleep; starting from sleep
on waking
Memory
active memory
forgetful
Perception
senses; acute
senses; dull
Preoccupied
absorbed, buried in thought
brooding (see anxiety, sadness)
busy (see occupied, delirium)
Quiet, peace (or lack of); quiet disposition
feeling of tranquillity
Restlessness, nervousness
anxious, etc.
during chill
during heat
Talking, conversation
contrary (see obstinate, irritable)
critical
obstinate
children; chilly, difficult to control and clumsy
indiscretion
dislike of talking, desire to be silent, taciturn
Unconsciousness; during chill
Wearisome, tired
Contradiction of will
≡ more ...