Cayenne Pepper, Capiscum, Capsic, Capsic., Capsicum, Caps.
HPUS
indication of Capsicum Annuum:
Fever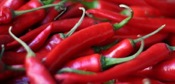 Have you ever used Capsicum Annuum? Yes No


< < Capsicum Annuum- main page

Below are the main rubriks (i.e strongest indications or symptoms) of Capsicum Annuum in traditional homeopathic usage, not approved by the FDA.
MIND
Mind
Children become clumsy, awkward; especially with headache.
Taciturn and obstinate.
Haunted by a disposition to suicide.
Homesickness; with red cheeks and sleeplessness; with hot feeling in feeling in fauces.
Melancholy or hypochondriasis.
Peevish, irritable, angry; easily offended.
Awakens with fright, screams, and remains full of fear.
After emotions, fever, with red cheeks.
≡ more ...