Cayenne Pepper, Capiscum, Capsic, Capsic., Capsicum, Caps.
HPUS
indication of Capsicum Annuum:
Fever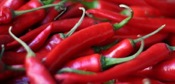 Below are the main rubriks (i.e strongest indications or symptoms) of Capsicum Annuum in traditional homeopathic usage, not approved by the FDA.


Have you ever used Capsicum Annuum? Yes No


< < Capsicum Annuum- main page
MIND
Mind
Tendency to take alarm.
Discontent.
Opinionativeness.
Strong disposition to take everything in bad part, to fly into a rage, even on account of harmless jests, and to utter reproaches.
Capricious and exceedingly changeable humour.
Dulness of all the senses.
Want of reflection and awkwardness.
Nostalgia, with redness of the cheeks and sleeplessness.
Disposition to jest, and to utter witticisms, but gets angry at least trifle.
≡ more ...