Cayenne Pepper, Capiscum, Capsic, Capsic., Capsicum, Caps.
HPUS
indication of Capsicum Annuum:
Fever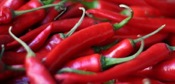 Have you ever used Capsicum Annuum? Yes No


< < Capsicum Annuum- main page

Below are the main rubriks (i.e strongest indications or symptoms) of Capsicum Annuum in traditional homeopathic usage, not approved by the FDA.
HEAD
Head
Intoxication,
Confusion of the head,
Confusion on first waking from sleep (fourth day),
Obscuration and confusion of the head,
General Head.
Emptiness and dulness of the head (after twelve hours),
When he awoke from sleep his head was so dull that he did not even recognize himself,
Throbbing, beating headache in one or the other temple,
Throbbing, beating headache,
Headache
A bursting headache, or a feeling as if the brain were too full,
Headache on coughing, as if the skull would burst,
Headache, as if the skull were bruised, on moving the head and on walking,
(Tearing headache),
A headache, more sticking than tearing, which was worse during rest, but relieved on motion,
A sticking headache,
A one-sided, pressive-sticking headache, like an hysterical migraine, which was increased by raising the eyes and the head, or by stooping, and was accompanied by forgetfulness and nausea,
Bursting headache in the forehead,
Constant pressive headache in the forehead, above the root of the nose, together with some stitches through the ear and over the eye,
Pressive headache in the forehead, as if it pressed from the occiput outward to the forehead, with a cutting from the occiput to the forehead (immediately),
Throbbing headache in the forehead,
Tearing headache in the forehead,
Drawing-tearing pain in the frontal bone, more on the right side (after six and seven hours, and after third day),
Pressive headache in the temples,
Pressive pain in the temporal region,
Scalp
Slight shivering over the hairy portion of the head, followed by burning-itching on the scalp, which was relieved after scratching, but returned with increased severity (after two hours),
Vertex
Severe, deeply penetrating stitches in the vertex,
Two sudden, violent stitches from the vertex to the forehead (after one hour),
Sides.
Drawing-tearing in the left side of the head (after seventeen and forty-eight hours),
≡ more ...