Cayenne Pepper, Capiscum, Capsic, Capsic., Capsicum, Caps.
HPUS
indication of Capsicum Annuum:
Fever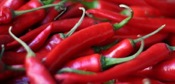 Have you ever used Capsicum Annuum? Yes No


< < Capsicum Annuum- main page

Below are the main rubriks (i.e strongest indications or symptoms) of Capsicum Annuum in traditional homeopathic usage, not approved by the FDA.
HEAD
Headache
Headaches as if the skull would split when moving the head, when walking or coughing. Feeling as if the head would fly to pieces; holds the head with the hand. Feeling as if the head were large, aggravated by coughing and stepping, ameliorated by lying with the head high.
≡ more ...