Cayenne Pepper, Capiscum, Capsic, Capsic., Capsicum, Caps.
HPUS
indication of Capsicum Annuum:
Fever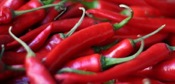 Have you ever used Capsicum Annuum? Yes No


< < Capsicum Annuum- main page

Below are the main rubriks (i.e strongest indications or symptoms) of Capsicum Annuum in traditional homeopathic usage, not approved by the FDA.
HEAD
Headache
Drawing, tearing pain in the right frontal bone.
Headache, as if the skull would split, when moving the head, or walking.
Throbbing headache, in one or the other temple.
Pressing frontal headache.
Darting pains in head; worse at rest; better walking.
Scalp
Itching of the scalp; a short of biting, burning, itching; better by scratching, but becoming very much worse immediately afterward.
Outer head
Head seems too large.
Skull feels bruised, on moving the head, or walking.
≡ more ...