Cayenne Pepper, Capiscum, Capsic, Capsic., Capsicum, Caps.
HPUS
indication of Capsicum Annuum:
Fever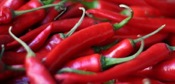 Have you ever used Capsicum Annuum? Yes No


< < Capsicum Annuum- main page

Below are the main rubriks (i.e strongest indications or symptoms) of Capsicum Annuum in traditional homeopathic usage, not approved by the FDA.
HEAD
Head
Bewilderment of the head.
Intoxication, as if from spirituous liquors.
Headache
Headache, as if the cranium were going to burst, on walking, or moving the head or coughing.
Attack of semi-lateral headache, pressive and shooting, with nausea, vomiting, and loss of memory, aggravated by movement of the eyes.
Shooting, or acute, drawing pains, esp. in the sides of the head.
Pain of pressive severing in the brain, as if from fulness.
Pulsative headache; (better in motion).
Scalp
Gnawing itching in the scalp, with pain in the roots of the hair after scratching.
≡ more ...