Cayenne Pepper, Capiscum, Capsic, Capsic., Capsicum, Caps.
HPUS
indication of Capsicum Annuum:
Fever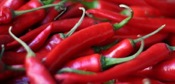 Below are the main rubriks (i.e strongest indications or symptoms) of Capsicum Annuum in traditional homeopathic usage, not approved by the FDA.


Have you ever used Capsicum Annuum? Yes No


< < Capsicum Annuum- main page
GENERAL
General
Seems to suit especially persons of lax fiber, weak; diminished vital heat. A relaxed plethoric sluggish, cold remedy. Not much reactive force. Such persons are fat, indolent, opposed to physical exertion, averse to go outside of their routine, get homesick easily. General uncleanliness of body. Abstainers from accustomed alcoholics. It affects the mucous membranes, producing a sensation of Constriction. Inflammation of petrous bone. Burning pains and general chilliness. Older people who have exhausted their vitality, especially by mental work, and poor living; blear-eyed appearance; who do not react. Fear of slightest draft. Marked tendency to suppuration in every inflammatory process. Prostration and feeble digestion of alcoholics. Myalgia, aching and jerking of muscles.